9th Grade Spanish Online Course 2023
Join our 9th Grade Spanish Online Course for Fall 2023 (Sept-Dec) or Spring 2024 (Jan-May).


Complete Course Materials

"An amazing Spanish course for my ninth grader, who enjoyed the focus on pronunciation with a native speaking teacher."
Is Spanish for 9th Graders?
Not surprisingly, Spanish students who spend more time with native Spanish speaking teachers tend to develop their Spanish language skills more deeply. Our high school Spanish online course is instructed live on Zoom with a native Spanish speaking teacher. We have small groups that encourage learners to get as much Spanish speaking practice time as possible, with an emphasis on pronunciation. The idea with taking Spanish 1 in the 9th grade is to get four years of practicing high school Spanish, in grades 9-12, before graduation.
Learning a new language such as Spanish is like exercising a muscle. It's going to take a bit of practice, and you have to stick with it. There's no magic to learning the Spanish language. It's going to take practice and some time. Just like you can't build strong muscles simply by drinking some special protein shake, there's no secret recipe to learn to speak Spanish without time spent on practice and repetition.
Our online high school Spanish lessons also allow learners the opportunity to make mistakes, which is something that just isn't going to happen when learning from apps or videos. One of the most important aspects of learning a foreign language is allowing yourself to make mistakes. Just like you learned to walk by falling down and getting up again, the opportunity to make mistakes and recover in a constructive learning environment is usually the difference maker when learning a foreign language.
As you start to develop foreign language skills, you'll notice that you gain the ability to reinterpret yourself and even establish a new self identity. For example, people tend to be a bit more extroverted and let go of their fear of saying something wrong when speaking in a foreign language. As you start to gain skill with Spanish, you'll notice that you can literally think in a different perspective and even develop a new personality connected to your new language skills. Aside from improving communication skills, people who learn a new language tend to increase their self confidence because of their ability to develop new skills without fearing the judgments of others.
In addition to learning from the live teacher, it's also important to practice Spanish as often as possible outside of the classroom. Our high school Spanish course includes PDF printouts of the lessons so that the learners can practice speaking in between the live classes. We found that practicing speaking Spanish from the PDFs for a few minutes a couple times a day was generally more effective than long study sessions.
It's great to learn Spanish at any age, however the traditional academic track has been to take Spanish for four years of high school, starting with 9th grade Spanish 1.
Instructor for 9th Grade Spanish 1 Online Course
Juan is the native Spanish speaking course instructor for high school Spanish 1 for ninth graders. He learned a second language, English, to travel, and he enjoys helping others  to learn useful language skills.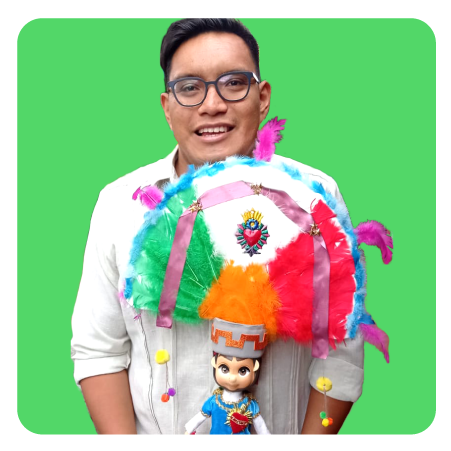 9th Grade Spanish 1 Live Class Schedules
Our 9th grade Spanish 1 class is offered in a live format with weekly meetings on Zoom taught by Juan. Click the below images for more information about class times and how to sign up.
Lesson 1: The alphabet, the week, months of the year.
Lesson 2: Greetings + family members
Lesson 3: Ser + countries and nationalities
Lesson 4: Ser + professions
Lesson 5: Estar + age, sensations and
common illnesses
Lesson 6: Haber (hay) + parts of the house
Lesson 7: ¿Qué hora es? (What time is it?)
Lesson 8: ¿Qué es? / (what is it?)