Scott Beaver, Ph.D., or "Dr Scott," has a doctorate degree in chemical engineering from the University of California. He makes fun, approachable college prep courses for homeschoolers, home educators, and teachers in four continents and most English-speaking countries.
Dr Scott has created video textbooks for science and web design. They are based on his experiences as a college professor, where he learned exactly what one needs to know to succeed in higher education. He's been teaching and working with homeschool groups for decades. He received teaching training as a Fellow of the National Science Foundation (NSF).
Previously, Dr Scott provided regulatory guidance and consulting services to corporations and governments for preserving and improving environmental quality. He also founded several startups in the chemicals industry. Recently, he has been travelling and enjoying life while spreading his message that you, too, can find your path using online learning, anywhere, any time.
Dr Scott has recently joined the Board of Advisors for ChemTalk, a nonprofit dedicated to making chemistry fun, and Express Biolabs.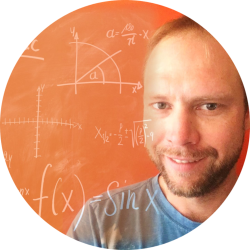 Resume for Scott Beaver, Ph.D.
Qualification summary
Connects with and motivates young learners
Instructs FUN technical material and study skills
Speaks in a clear voice and plain English
Respects diversity and cultural differences
Integrates online technology to bring the classroom to your home or anywhere
Shows positive attitude empowering appreciation for lifelong learning and responsibility
PhD Chemical Engineering with Statistical Modeling minor. Full academic and diversity scholarships.
BS Chemical Engineering with Economics minor. High Honors. Awarded Dean's Scholar funding.
Peer Tutoring Services tutor for undergraduate students in chemistry, engineering, and business
For the whole resume/CV for Scott Beaver, Ph.D., please see the document here.
To get in touch with Dr Scott, email us.
To learn more about Outschool chemistry classes with Dr Scott, including 300+ public reviews, click here.