Exploring the Hidden Universe Within Self Paced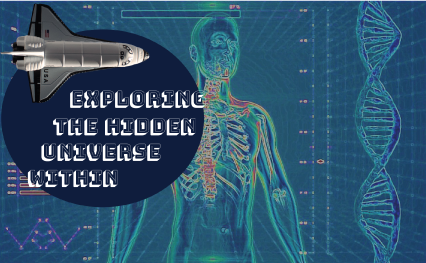 Learn practical human anatomy while exploring a valuable life skill called body awareness, otherwise known as paying attention and being focused. It's a great way to improve self awareness and self confidence!
We will spend 8 lessons (1+ hours each) learning about "dynamic anatomy." This means understanding how groups of body parts and systems work together to keep you alive and moving. Relevant, practical aspects of human anatomy will be explained by the instructor in plain English. There will be fun demonstrations and simple group movement exercises so that learners can see and feel their various human functions. This approach is called kinesthetic learning, which means learning by carrying out physical activities. For example, instead of just talking about the range of motion for the elbow joint, we will literally bend our elbows together and observe. Kinesthetic learning is a vital real-world skill to supplement the ability to learn by watching and listening.
We will NOT be memorizing long, boring lists of body parts. This traditional approach has limited value, because simply learning the names of body parts does not explain what they do. The goal of the class is to understand and feel how your body parts move, function and keep you alive.
No background knowledge is required for this course. You only need to bring your human body to the lessons. Please allow sufficient space to sit, stand, and move your limbs freely.
Self Paced Course: Single Learner Lifetime Access, Materials and Certificate Included
Lifetime access for this course with a one-time payment