Homeschool Spanish Phrases & Dialogues Online Course 2022-23
Conversational Spanish is a middle school language arts curriculum for homeschoolers beginning a foreign language. The live course has regular weekly meetings on Zoom for the 2022-23 school year. Find the schedules, pricing, and details for our live online Conversational Spanish courses for homeschoolers below.
Conversational Spanish 1 meets weekly on Zoom on Wednesdays at 3:10 PM PST / 6:10 PM EST from Feb 1 – May 10, 2023. It's conversational Spanish for beginners.
Conversational Spanish 2 meets weekly on Zoom on Thursdays at 2:10 PM PST / 5:10 PM EST from Jan 19 – May 11, 2023. It's a continuation course.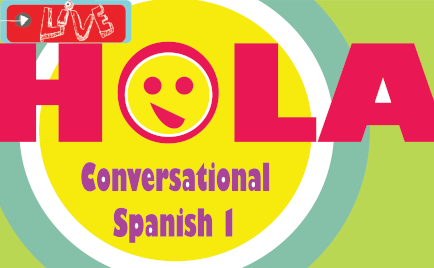 Conversational Spanish for Middle School
Learn Spanish Naturally. Learn Spanish with Native Speakers.
Our Conversational Spanish series is for learning Spanish naturally, the easy way. While our methods are based in modern neuroscience and cutting edge statistical pattern recognition techniques, what you need to know is that you won't find any annoying grammar in this course. Grammar based approaches to learning languages just don't work, and we aren't going to do it. Dr. Scott, our homeschool Spanish academy founder, for example, spent years in grammar-based Spanish courses without ever learning how to say a single practical thing. You might recall that you didn't learn English the first time by analyzing grammar (as a baby!), and you can't learn Spanish that way either.
The idea of the Conversational Spanish live online course is to simulate a conversation, between two people, in the Spanish language, speaking the way that normal, everyday native Spanish speakers would speak. We'll learn to tell a story, in Spanish, that's perhaps the single most common conversation on planet Earth. We'll learn to talk about where we've been (or not), what was there (or not), and what we did (or didn't do) when we went there (or decided not to go). It's a simple conversation with a million variations, and, the best part, is that it's a real Spanish conversation starter if you ever find yourself in the Spanish speaking world and you'd like to strike up a conversation with the locals.
The live online course is structured to learn Conversational Spanish in 20 lessons. The core of this middle school language arts curriculum for homeschool is the regular, weekly, live class meetings led by a bilingual, native Spanish speaker. Students will learn Spanish naturally, developing a simple conversation over the course of the year by layering on details, resulting in the ability to have a complete, intelligible Spanish conversation that real people actually have every minute of every day somewhere in the Spanish speaking world.
There's homeschool Spanish worksheets for the lessons that use our science-based, fool proof system to produce a linguistically correct conversation every time, without fail. Students learn beginner level Spanish around 400% faster with our system compared to others, because we avoid leading our students into the deep and unescapable grammatical pitfalls inherent to all of the grammar-based systems. Our Spanish curriculum for homeschool also includes audio and video recordings so you can easily practice and continue to learn Spanish with native speakers outside of the classroom.
What's the Spanish Middle School age range for USA?
The Conversational Spanish live online course is an ideal 8th grade Spanish curriculum, and it's ideally taken the year before a high school Spanish 1 class in the 9th grade.
The Spanish middle school age range in the USA would generally be around 11-13 years, at some point during the school year. We think that 11-13 years is an ideal age to start learning a second language using a conversational approach, and that's exactly why we made this middle school language arts curriculum for homeschool in the first place.
Instructor for Homeschool Spanish Phrases & Dialogues for Middle School
Juan is the native Spanish speaking course instructor for Conversational Spanish. He learned a second language to travel, and he helps others learn useful language skills.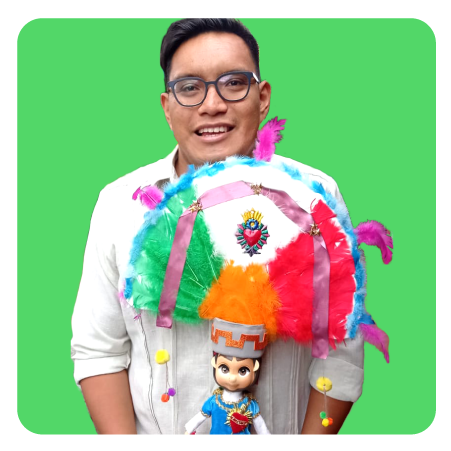 Topics: Conversational Spanish in 20 Lessons
There are homeschool Spanish worksheets, videos, and audio recordings to go along with the lessons described below, which are taught live on Zoom so you can learn Spanish with native speakers in a relaxed and comfortable setting.
Conversational Spanish 1 Topics: Spanish Dialogues and Spanish Phrases
We'll learn the following Spanish dialogues and Spanish phrases, for complete beginners starting with zero knowledge of the Spanish language. We'll have a few easy to understand Spanish songs as well, in addition to middle school Spanish worksheets focusing on vocabulary games. Our live online Spanish courses include Spanish conversation videos with subtitles and examples with native speakers to help your pronunciation.
Lesson 1. Welcome to Spanish dialogs and phrases. We'll start by working on pronouncing things the Spanish way, learning Spanish vowel sounds. We'll focus on saying the names of major cities, and we'll start to learn some Spanish numbers. And we'll show you how to best use those middle school Spanish worksheets that go along with the lessons.
Lesson 2: We will learn Spanish greetings and basic Spanish phrases such as "Hola," which means "Hello." We'll learn some less formal greetings too, like how to say "What's up dude?" in Spanish. And we will learn about Mexican and South American Culture, including how to properly use formal greetings as a sign of respect. You wouldn't, for example, say "What's up dude?" to grandma.
Lesson 3: A major aspect of our middle school language arts curriculum for homeschool is using positive expressions to create inclusiveness in the classroom. We'll learn how to properly validate and praise each other with expressions like, "Cool," "Nice," "Good Job," "Well done," etc., plus more fun, positive Spanish expressions that just don't translate well to English. These expressions are really helpful to keep those Spanish conversations going once you get one started!
Lesson 4: The online conversational homeschool Spanish curriculum really gets going with this lesson, in which we simulate our first conversation between two people. It's a simple conversation asking if you've gone to some specific place, with either an affirmative or negative response. We'll explore dozens of variations of the scripted dialog between teacher and student, student and student, and even student and their family to practice at home. There's a video so you won't get lost practicing at home, plus our foolproof script that just won't let you make all those silly errors that beginner Spanish speakers would normally make.
Lesson 5: We'll continue the conversation by adding some variations to the scripted dialog. The learners will develop several ways to explain whether or not they've been somewhere, so that a natural sounding Spanish conversation can occur.

Lesson 6: We'll take the Spanish conversation deeper by saying when you've been to some place.
Lesson 7: We add how to say what you saw when you were there to the Spanish conversation. At this point, learners will have access to literally thousands of possible script variations to explore many conversations. We'll have the ability to have some serious conversations as well as some funny ones too.
Lesson 8: We will learn to say both where we've been, and also where we were planning to go but then didn't. We'll learn how to say your family members in Spanish, so we can develop a rich conversations about where we've been, intended to go, and/or didn't go with various family members.
Lesson 9: We'll add the ability to inquire where some place is and get directions. We'll focus on describing locations as a means to deepen the conversation.
Lesson 10: We'll finish by learning how to talk about where you might go in the future. By lesson 10, the learners will have the ability to have a complete conversation, in Spanish, about describing places they've been to or plan to go to. People who travel or work abroad like to have this type of conversation, so we think it's a really important and useful first Spanish conversation to learn.