Basic Food Chemistry Course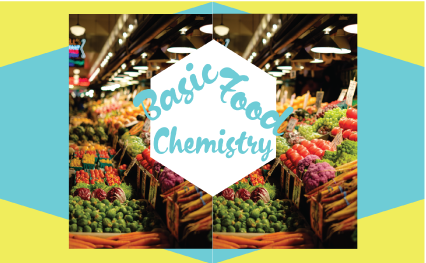 Food Chemistry Course Description
Learn the science of foods… Food chemistry is about those molecules that we call food, and what they do in the body.
What exactly are foods, chemically speaking? Are they acids? Are they bases? What are proteins, carbohydrates (carbs), and fats? What are calories, and how do they relate to proteins, carbs, and fats? What's a fat versus an oil? We'll break down all the mumbo-jumbo chemistry terms in Plain English.
Do you know how to read a food nutrition label? That information came from a chemistry laboratory analysis of food. It helps to know a little chemistry to understand what the food label is talking about. Food labels have lots of good information, yet they also hide some information. This course will show you how to read between the lines of a food label to understand what it really means.
Why Learn Food Chemistry?
Food is something we need, for sure, yet it can also be fun. There's lots to learn about science and chemistry, for example, just by cooking in your kitchen. Lots of scientific experiments are, in fact, just complicated versions of things that we do every day in the kitchen. Food is an important topic within the field of chemistry, and you can even become a professional food chemist. You can find more info about careers in food science with the nonprofit Institute of Food Technologists at IFT.org.
The chemicals in food relate to nutrition, meaning that what you eat affects your body. A lot! Those interested in learning more about the chemistry happening inside the human body, including how food is processed, might check out Exploring the Hidden Universe Within. It's a functional human anatomy class that covers the topics of what your body parts do for you… including those all important digestive organs than turn food into energy.
This course is an introduction to the fascinating science of food. It's totally accessible for anybody with a middle school level science background. If you already have a bit of chemistry experience and you are looking to dive deep into chemistry of food, you might check out our courses covering the organic chemistry in food science (O Chem Part 1).
About the Teacher
Dr. Scott has a Ph.D. in chemical engineering, with an extensive background in the chemistry and laboratory techniques used to study food. Dr Scott became interested in the topic as a college chemistry professor, when he realized that food was a topic that connected with everybody. After all, we all like to eat good food! So he made this course as a Plain English guide to what chemicals food contains, what they do, and how they might appear (or not) on a food label. Dr Scott has been cooking since age 10, starting with a simple apple crumble recipe, and he continues to enjoy time spent in the kitchen almost every day.
The Basic Food Chemistry course includes 15 lessons broken into 5 sections. You can see the course topics on the syllabus navigation menu (right sidebar or at the bottom on a cell phone). There are several open access lessons at the beginning so you can get started learning the yummy science of food right away!
Click here to advance to the first lesson, an introduction to the online course.
Get Instant, Lifetime Access
Use the button below to get lifetime access to the complete course materials.
Single Course Lifetime Access
Lifetime access for this course with a one-time payment