Immersive Chemistry First Semester
Do you want to continue learning real chemistry from a real fun chemistry professor? Without needing to purchase an expensive textbook?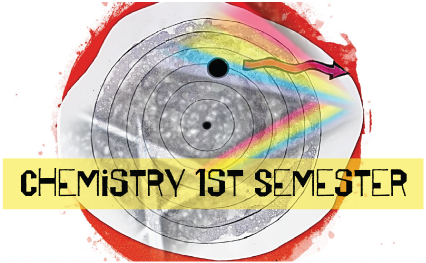 This 15-week class is the second in the 3-course Immersive Chemistry series, following the Introduction course. I'll show you how to keep loving learning science.
Single Course Lifetime Access
Lifetime access for this course with a one-time payment
Prerequisite: You are ready for this course if you have completed Immersive Chemistry – Introduction or a similar course covering the periodic table, bonding, reactions, experiments, and lab reports.
Description: You'll learn about science by using analogies that relate to concepts you already know well. You'll be able to explain the world scientifically using Plain English, and you'll be designing experiments and organizing scientific data. Most of the math, technical jargon, and complicated chemicals have been removed from the topics so you can truly master the chemistry concepts. In additional to covering all those important, traditional, first semester chemistry topics that would be found in a textbook, you'll learn practical stuff and deeper insights about everyday substances including water, air, solvents, soap, salts, minerals, fuels, food… and the famous baking-soda vinegar "volcano" reaction.
There's a written assignment, with solutions, for each lesson so that the ideas sink in. You'll get up to speed with chemistry fast and develop the skills needed to have fun succeeding in future chemistry and science courses.
The big ideas you'll be learning:
Using chemical building blocks that are not on the periodic table
Understanding how chemical bonding affects real-world properties
Analyzing chemical reactions to understand laboratory activities
Using ratios to make scientific predictions
Designing laboratory experiments and writing science reports
Applying what you know about "little" molecules to understand "giant" molecules
Videos and material included: 230 videos (31 hours total) plus 45 printable pdfs including worksheets, answer keys and class notes. There are several lab demos and experiments to easily and safely conduct at home.
Topics: Topics are listed in the collapsible righthand sidebar at the top of this page. The topics will be active links to the course materials immediately when you sign up using the buttons to select between Single Course Lifetime Access or Get All the Courses!
Suggested schedule: 1.5 to 3 hours per week over 15 weeks
Age: 10 to 100+ years old.

Cost: $99.99 for lifetime access, or $19.99 monthly membership for all courses
There are 42 Lessons in 3 Immersive Chemistry Courses
Immersive Chemistry – First Semester is the second of three courses in the Immersive Chemistry series. Continue with First Semester using the buttons above to select between Single Course Lifetime Access or Get All The Courses!